Learn how to organize your campaigns, get a nuanced layering of data, and efficient and accurate insight
Traffic source labels allow you to better organize your data for individual campaigns–so you can get to information faster and easily.
Category: the data is sorted by channels such as organic, email, affiliate, paid search, SMS, and more.
Targeting: the data is sorted by how you reach your audience, including prospecting, retargeting ads, branded search, and more. This provides a view of the top of the funnel.
Platform: the data is grouped by platforms such as Facebook, Google, Klaviyo, or Twitter. You can easily compare each platform against your benchmarks and each other.
📚 EXAMPLE: Let's say you have a Facebook campaign.
Platform: Facebook
Category: Prospecting
Targeting: Paid - Retargeting
Region: US
Sale: BOGO
Media Buyer: Ryan
There are a variety of situations where you might need to do this: whenever you want to recategorize something–like if your linkinbio pushes to TikTok and not your website.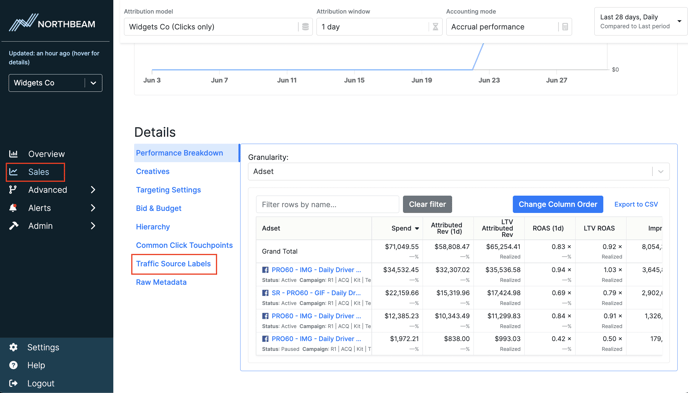 💡TIP: Branded search campaigns rely on the word "Brand" somewhere in the campaign title. Most brands do this and NB automatically recognizes it, but if your naming convention doesn't follow this you'll need to modify the traffic source.
How do I set up a one-off Traffic Source Label
Login to your Northbeam dashboard.
Navigate to the Sales Tab, click into the campaign of the traffic source you want to change at the bottom of the page > campaigns view.
Once you click in, scroll down to Traffic Source Labels and then type in the key and value you want to modify.

How do I set up Traffic Source Labels for all campaigns
Login to your Northbeam dashboard.
Go to advanced traffic source labels, and use Filters to isolate the campaigns you want to modify.
From there, bulk select the campaigns you want to relabel, and use the Enter Key and Enter Value menus to change the labels.